MARTIN & LEWIS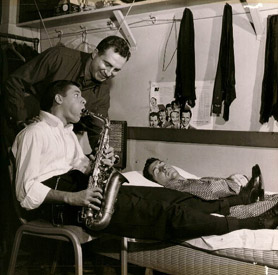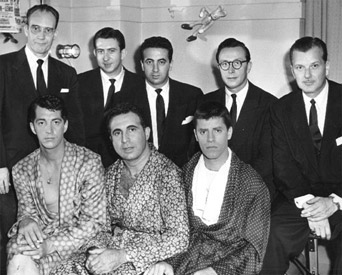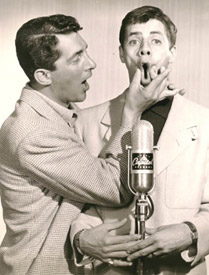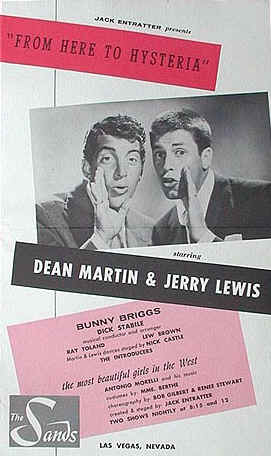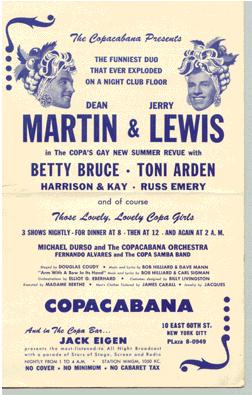 CLICK HERE TO SEE THE COPACABANA SHOW
Review by Robert W. Dana - Thursday, May 25, 1950

Martin and Lewis Get Copacabana Laughs

That amiable pair of clowns, Dean Martin and Jerry Lewis, are enjoying at the Copacabana the same unqualified success they had at the club last season, and It looks as if it might continue a few more seasons until their kind of comedy-making goes out of style.

Skinny, boyish Lewis with the crew cut, can get Plenty of laughs merely by mugging. When he makes situations out of lines, with nonchalant, Crosby -reminding Martin Playing straight, he really rocks the audience with his cuteness.

Don't ask me to remember what they do, for much of their nonsense doesn't make much sense, but every now and then, with recognizable musical backgrounds, they string together some of the merriest topical notes and impressions. Martin's takeoff of Cary Grant is old hat by now, but when he plays Mary Martin to Jerry's Pinza, you'll laugh your ribs sore.

Wind Up in Style.

The boys really wind up with terrific style, showing their slick tap dancing ability as, with white straw hats and canes, they do a show-stopping routine to "Swanee." Betty Bruce, a fine dancer who's been around the New York clubs for some time, gives a strong performance in a featured spot. Instead of just giving a standard dancing exhibition, which is her first talent, she sings well and shows a lot of humor in her asides to the customers. Blonde this trip and wearing a colorful turquoise outfit, Betty concludes her act on an amusing note of triumph.

Also featured is brunette Toni Arden, a good popular song stylist. Customers the other night were admiring her Alice blue gown with sequins and satin bodice, which was quite becoming. Among her songs are "My Heart Stood Still, "Supposin Where Can I Go? and "You're Breaking My Heart."

Emery in Production Numbers.

For production numbers Russ Emery does nicely. And who wouldn't with such a bevy of beauties in stunning costumes in front of you for inspiration? The last number is a honey, with Billy Livingston's costumes taking the prize. Also contributing to the general excellence of show is the young dance team of Harrison and Kay.

Michael Durso and his orchestra still play for the show and dancing at the Copa, with Fernando Alvaxes and his samba band alternating, Dick Stabile, the saxophonist, plays and conducts Durso's orchestra for Martin and Lewis.